Date Posted: March 1, 2017

Starting the week of January 16, 2017, NWS San Diego began alerting partners of a high confidence significant winter storm which could bring significant impacts from high wind, and flooding. Several partner emails were issued and followed up by live GoTowebinars. Each webinar had over 100 registered attendees, were recorded and also shared as a PDF briefing package. Forecasters also produced video briefings, weather stories and social media broadcasts. San Diego media stations such as KPBS, NBC7 and CW6 did recordings and interviews highlighting the potential for significant rainfall associated with an atmospheric river and addressing the impact to the 6 year drought. WFO San Diego informed partners that this would be the most significant storm since January 2010 or December 2010 when flooding and wind damage impacted the region. The first weather system Thursday and Friday January 19-20, brought wind gusts over 60 mph to coastal cities and heavy rainfall and mountain snow. The City of Chula Vista opened their EOC after fallen trees blocked roads and injured school kids. The damage assessment reported 700 downed trees and a cost of 1.2 million. The city of San Diego reported 125 tree related calls, most of which for trees fallen on vehicles or buildings. The San Diego River reached 12 feet, highest since December 2010 when it reached 14 feet and 29 high water rescues occurred in the city on January 20, 2017.
Another storm along the 200 knot extended Pacific jet stream hit on Sunday January 22 and lingered into January 23-24. This was a pure atmospheric river with intense rainfall of 3 to 4 inches in less than 6 hours across Orange and western Riverside Counties, spilling into Palm Springs and northern San Diego County. Several high water rescues occurred including 2 tragic drownings. Snow levels in this event briefly rose above 7500 feet but colder air allowed for an additional 1 to 2 feet of snow above 5500 feet Sunday night and Monday. Total snowfall accumulation between January 19 to 23 reached as much as 60 inches in the San Bernardino mountains. This final weather system also brought high winds of 40 to 50 mph to coastal cities. Storm total precipitation with the series of Pacific storms ranged from 2 to 6 inches on the coast, 3 to 8 inches across the interior valleys, and 6 to 12 inches in the mountains. After years of no significant water flows into rivers, the Santa Ana River reached 30,000 CFS into the Prado Dam, the San Luis Rey River had water flowing for the first time outside of the monsoon, the desert Mojave and Whitewater rivers recorded significant flows, and the Santa Margarita River may have reached a record stage (data was not recording in 2010). Later in the week on January 26 following warmer weather an avalanche occurred on Mt Baldy at the intersection of the San Bernardino and San Gabriel mountains requiring helicopter rescues of 2 hikers just before strong Santa Ana winds developed. Southern California has received 150 to 250 percent of normal precipitation in 2016-17 and many locations are near their seasonal normals. Over the past 2 months the drought has improved 1 to 2 categories.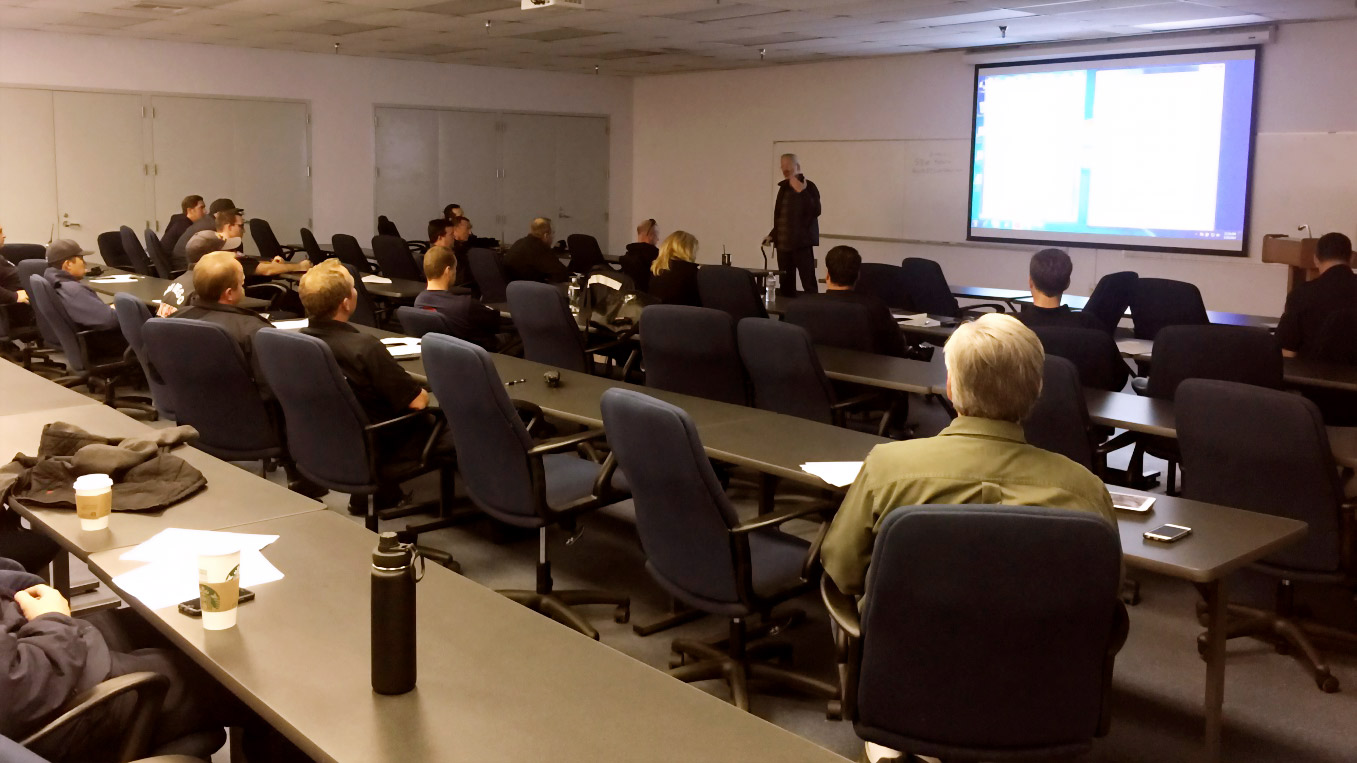 San Diego city fire and lifeguards discuss preparedness for the series of significant winter storms.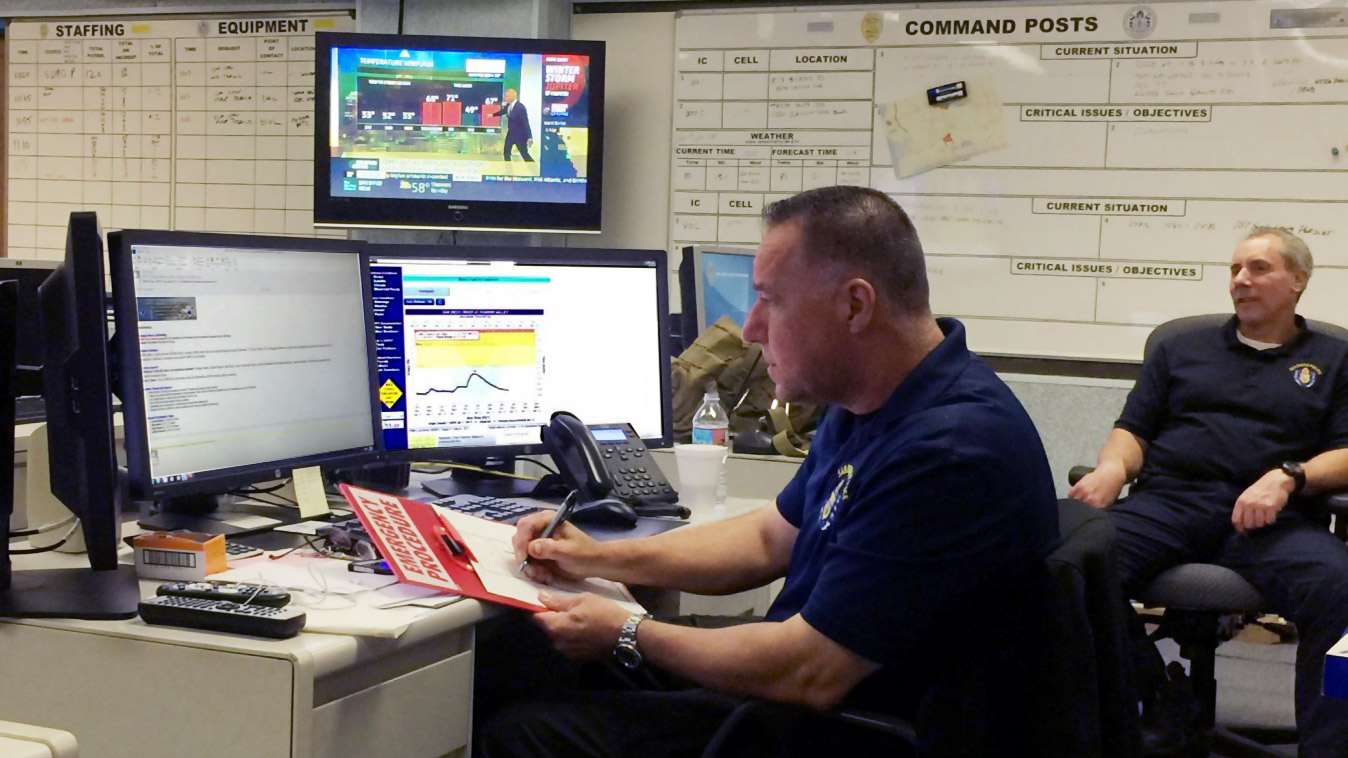 A weak before the storm the City of San Diego Police and Fire held a key partner meeting at their
Disaster Operations Center. Partners email and the AHPS graph for the San Diego River is shown.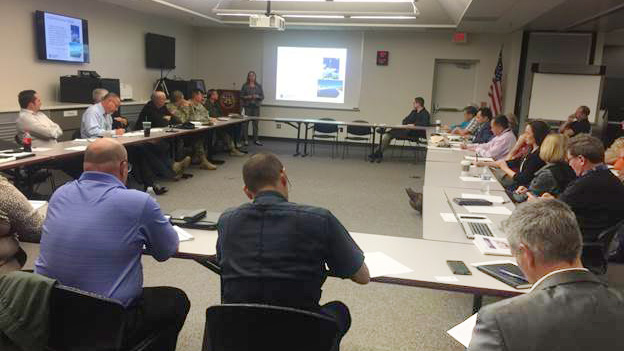 San Diego County gets briefed on the incoming series of storm while it was sunny outside.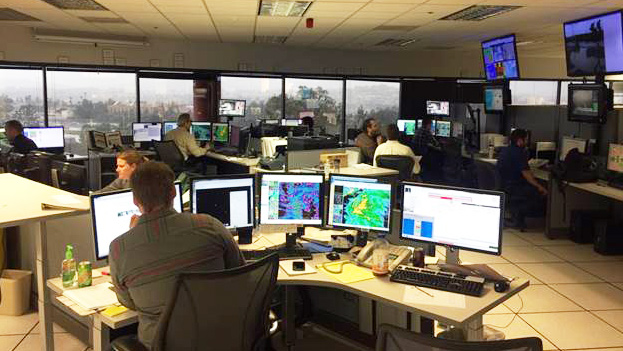 SGX operations during the storms on Friday, January 20, 2017.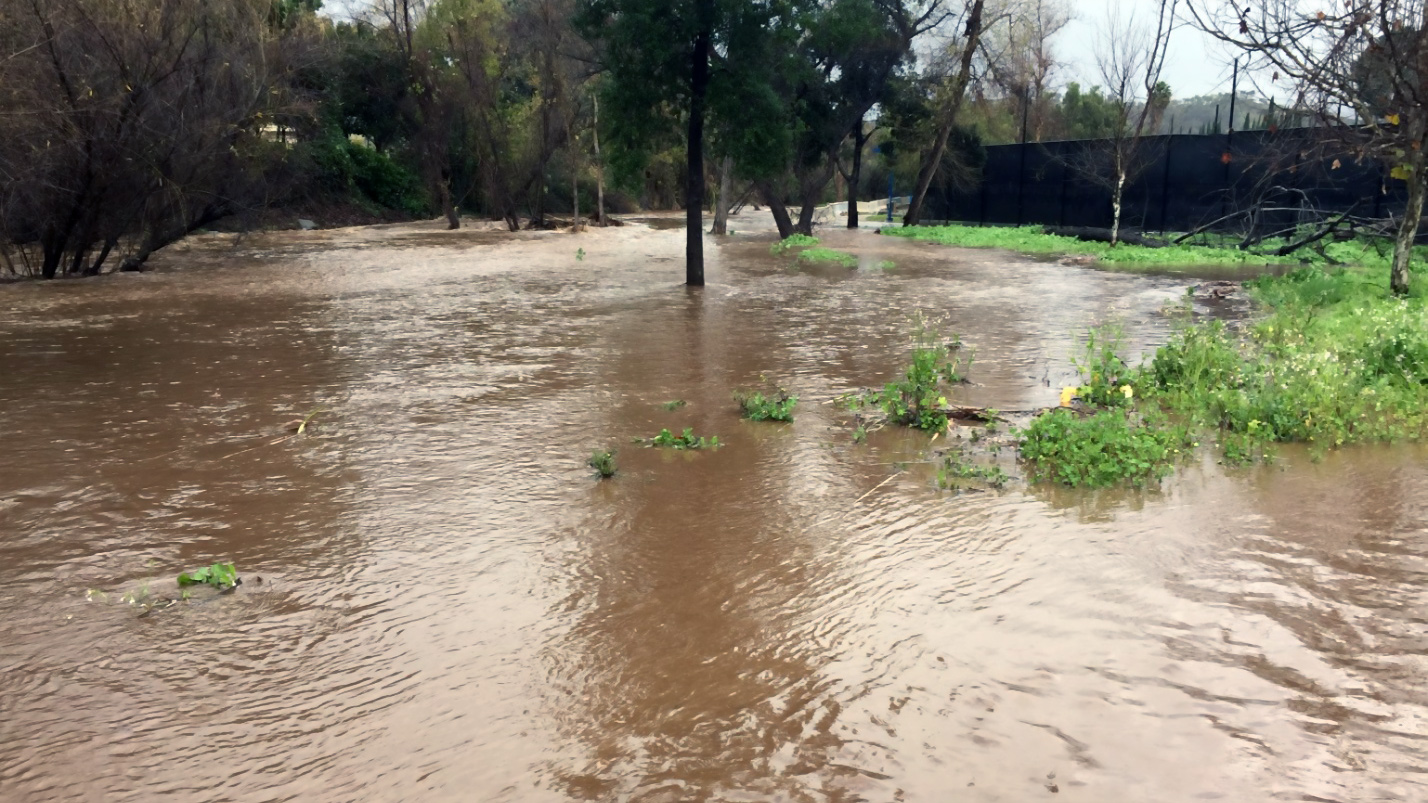 Flooding near WFO San Diego,